LIMITED EDITIONS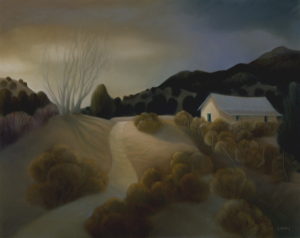 DUSK
LIMITED EDITIONS PRINTS | NOTECARDS
*Includes a Certificate of Authenticity signed and numbered by artist
*Add 2″ to 4″ paper border surrounding image with hand torn edge
*Pack and ship (unframed) – Sent Flat
*One week turn around (from receiving order to shipping)
THE LIMITED EDITION PRINT IS GENERALLY SET UP IN THREE SIZES.
PRICE RANGE: $200-$700
Each painting that is offered as a Limited Edition, varies in size and price.
Let us know which paintings you are interested as a Limited Edition, by viewing 'Recent Work,Thumbnail Gallery,Portfolio pages.We will email you with size ,price ,availability.
Thank you!
-Ann
ann.again@live.com
# (575) 779-0154
Examples:
'Winter-Sun'
8.5″ x 14″ Edition of 75 $225
12.8″ x 18″ Edition of 75 $325
18.2 x 30″ Edition of 25 $600
'Dusk'
10″ x 12.6″ Edition of 75 $225
15″ x 18.9″ Edition of 75 $350
22″ x 27.8″ Edition of 25 $600
'Santuario'
10″ x 13.6″ Edition of 75 $225
14.7″ x 20″ edition of 75 $325.00
20″x 27.2″ Edition of 25 $600
5×7 Notecards Available
Printed with archival inks and paper as if a miniature Fine Art Print !
Create your own selection, choose from images from Recent Work,Thumbnail Gallery,Portfolio Pages.
A Framed Notecard makes for a fun,quality & low cost gift too.
Purchase as single,5 card pack,10 card pack and up…
Single card $7.00 (includes sending)
5 Cards $30.00 (add $4.00 for sending and/or tax)
10 Cards $50.00 (add $5.00 for sending and/or tax)
Go to' Made in New Mexico Sale' page for a rotating notecard & 'Mini' Fine Art Print Sale
I work with Jack Leustig Imaging.
JLI uses the newest Espon Printers with Archival pigmented inks on museum-quality papers,producing giclee prints that will retain their beauty for generations.
Jack Leustig,master printer,works meticulously to capture the original painting.
,